From contemporary to traditional inspirations, a modern wallpaper can add a level of texture and intrigue to any room. For a while, wallpaper seemed like something you'd only find in your grandparents home or outdated houses. Today modern wallpaper is a very popular trend that adds a level of class, fun, and timelessness that a regular painted wall may lack. When you go modern, you have numerous choices in not just look but feel as well. Beyond Shade's design studio is here to help you choose which wallpaper will accent your home, with over 20 years experience in the interior fashions business, we look forward to designing your perfect soft treatment solution. We proudly serve the Chicago area, including Oak Brook, Hinsdale, Wheaton, Downers Grove, La Grange and River Forest, IL. Please contact us for more information on our extensive wallpaper library.
---
Neutral Wallpaper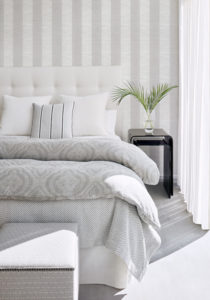 For those looking for something subtle, a neutral wallpaper offers a muted style. Neutral wallpaper is perfect for a space looking to stay timeless while adding a modern accent. A neutral wallpaper is great for both elegance and simplicity, while still offering numerous textures upon a closer look without sticking out.
Deep Saturated Wallpaper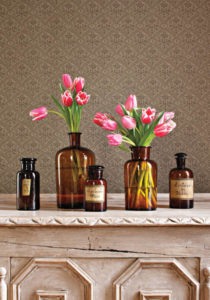 A deep saturated wallpaper adds a level of interest and comfort to a room. Where a neutral wallpaper blends in, a saturated one can do the opposite and is meant to be noticed and as a level of calmness. Saturated wallpapers offer many color choices, allowing for a more unique and personalized choice.

Pattern Wallpaper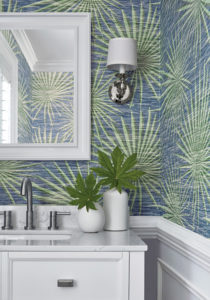 Looking for an accent or talking piece? Why not try something bold, fun, and original. This type of wallpaper works great with a more simple room set up that needs a little life and energy injected into it. These types of wallpaper allow for you to choose something that you'll likely never home across again. While the neutral and saturated modern wallpapers may be seen in a hotel or someone else's home.
Let our professional team at Beyond Shades help you! We can bring our mobile showroom to you so you can choose from a variety of wallpaper options and styles. Whether you're building a new home, re-designing your home, or just giving a single room a makeover, we can help you meet your design goals with personal service and quality products. No project is too big or too small. We offer in-home consultations where we listen to your needs and help you make selections that have the precise style and function you need. Beyond Shades is the Chicago area's source for window treatments and interior decorating needs. Book an appointment today! Beyond Shades is your local Hunter Douglas Gallery Showroom located at: 17W508 22nd Street Oakbrook Terrace, IL 60181. Feel free to call our Elmhurst In-Home Consultation to make an appointment at 312-928-9000!