Light when you want it and privacy when you need it.
If you are a lover of light and seeker of privacy, we've got some solutions for you.  Have you said yes to a home with big windows and lots of light?  Moved in during one season only to learn that in another you get a completely different amount of light and even strong heat?  Do you have windows that you duck and dodge when not fully dressed?  Is meal time like a sauna due to the light coming in through the large patio or sliding glass door in the breakfast room, but you love the view?  Does any of this sound familiar?  If so, guess what? You can have it all, both a light-filled home and the privacy you desire.  Beyond Shades has many Hunter Douglas and sheer drapery options for you.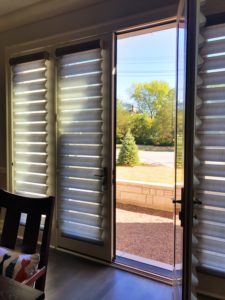 With these custom window coverings, you can enjoy all of the light you love and have all the privacy you need. Light and privacy are two distinct categories, and you can have as much or as little of each that you want.  You can even go dark in the daytime with certain shades if that's what you want.  We are full believers of sleeping until you are though, and the right shade may help you do that.  But if a dark room leads you to oversleep, we suggest you go with PowerView automated shades that you can schedule to open whenever you want.
Ettelife
Ettelife is a nickname I've given to a group of Hunter Douglas window coverings that all end in "Ette".  I had my first "Ettes" in the 90's as a 20-something window-coverings salesperson who won four free Hunter Douglas shades in a contest.  And today "Ettes" are in almost every window of my home. My choice then was Duette Top-Down/Bottom-Up in a fantastic teal color.  As a young single person in the city, I enjoyed sky views and light-filled rooms with complete privacy.  My close neighbors never knew what was going on inside.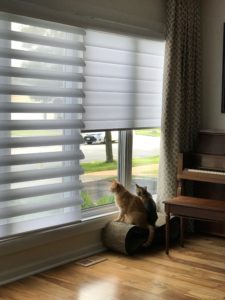 Today, as a mom and busy professional, my PowerView Pirouettes in my living room raise and open at 7:30 am so that our cats can enjoy some "kitty TV" through the front windows, and they close at dusk so that we have privacy in our home.  All day long, our rooms are filled with natural light.  Speaking of cats and kids, the PowerView shades are cord free and therefore pose no hazard to our cats or any young children.  In the bedroom, our room-darkening PowerView Pirouettes are scheduled to open five minutes before sunrise during the week and close at sunset.  On the weekends, they are not on a programmed schedule at all. We open them when we want to.
So let's dive into your light-loving privacy options.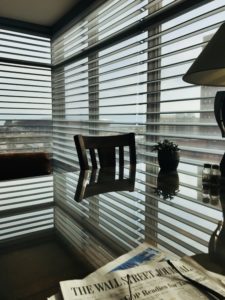 Privacy Sheers: Pirouettes, Silhouettes, and Luminettes
Put a little lux in your life with the premier options in light and privacy control, these beautiful shades offer both a sheer sun-taming view and privacy when you want them.  There is no wrong room or wrong area to do them in.  We've done them in high rises facing Lake Shore Drive, in new construction in St. Charles, and literally everywhere in between.  Our South Loop high-rise owner loved seeing her east-facing lake view through her PowerView Hunter Douglas ClearView Silhouettes while closing them on the south-facing side in the evening when her neighbors in a new high-rise were home. Having a dog at home all day, she scheduled her shades to be raised high enough for her dog to always have its favorite view of the city.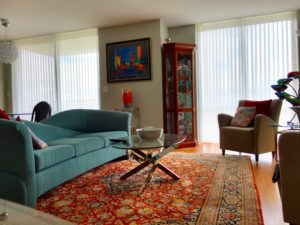 Our Evanston clients loved Luminette on the sliding glass doors of their living room, dining room, and guest bedroom.  Having a lot of art and beautiful heirloom rugs in their home, this was the perfect shade to protect their art and rugs from fading while drenching the rooms in full light all day.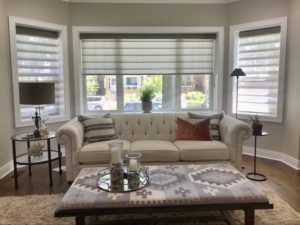 In this Oak Park home we did beautiful Pirouettes after the owners saw them in our showroom and fell in love with them.
Duettes and Vignettes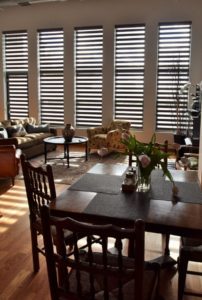 Hunter Douglas Duettes, being the leader they are in window coverings, most certainly offer privacy sheer options.  You can literally have two shades in one, with both a sheer option and a light-filtering or blackout option for privacy.  Recently Hunter Douglas introduced Vignette Duolites.
This amazing shade has beautiful sheer fabrics and an additional solid liner that drops in back to give complete privacy and darken a room when you want.  We have it on display in a very large sample in our Oak Brook showroom.  Clients literally swoon over it and say "I want that."  Come see it. You might feel the same.
Roller Shades and Designer Banded Shades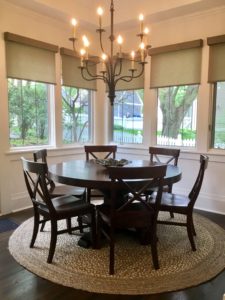 So let's get totally MOD. Roller shades are no longer your grandma's roller shade. They have been revamped, reimagined, reengineered, and redesigned, and are as simple or as glam as you want.  Select a fabric from see-through to blackout and from backdrop to showstopper in your room.  If you want privacy and a view, select two fabrics and we'll order them on a special double roller that allows you to select which fabric you want down in the same window.
We love our empty nesters who move back to the city.  These Lakeview homeowners made an excellent choice using banded shades to complement their decor as they come back to the city to enjoy all that Chicago offers.  We selected room-darkening fabrics in the bedroom and light-filtering fabrics in the living room.
Drapery Sheers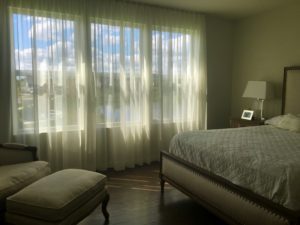 Don't forget about the beauty of sheer drapery to obtain a soft light in the room while protecting it from the heat and providing some level of privacy.  In Hawthorne Woods, this couple loved their view and did not need privacy so we went with soft sheers.  In Wicker Park, the client opted for linen sheer roman shades and drapery, and she is in love.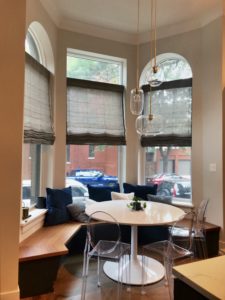 Whatever you imagine can be yours.  Let's talk about your specific style, light, and privacy needs, and we'll help you to find the right solution for your home.  Schedule your in-home consultation in the month of April, and save 20% on all custom drapery, in addition to our Celebration of Light rebates that start on selected products on April 13.