Creating a happy and healthy environment for a child on the autism spectrum can be challenging.  Starting with a smart plan and a few good strategies, you can best meet your child's needs. Here are some ideas to help you design the perfect bedroom for your youngster.
Sensory spaces.  Your cornerstone for planning is your child's sensory needs.  All people are different, and you want to tailor the room to your child's unique needs.  Provide areas for your child to engage in sensory stimulation, areas with minimal stimulation and opportunities for movement.  Think about appealing to your child's senses and how you can achieve various results.
Clean haven.  Your child can experience sensory overload and a great deal of stress in a cluttered environment.  Ensure that your child's bedroom is free of visual chaos by discarding unwanted belongings and organizing the rest.  If you need assistance, you can hire a professional home organizer, which will cost an average of $452-$900 for Chicago residents.
Sound.  Sound can be a difficult issue for children on the autism spectrum.  If your child has trouble sleeping, a white noise machine (these can be purchased for under $20) can help by providing regular, soothing sound.  Friendship Circle suggests an air cleaner for the same effect, which provides sound while reducing pollutants in your home, helping to keep your child healthier.
Consider colors.  Sensory input or lack of input is a key component in your plans, and that includes color.  Color is just as important as any other aspect of sensory stimulation, such as texture, sound and scent.  Autism Parent Magazine notes children will find reds, oranges, yellows and whites too stimulating for a bedroom environment.  When selecting the room's colors, soothing shades of blues, greens, browns, purples and blacks are best.  Another recommendation is to avoid patterns. Simple solids help your child focus better.
Movement.  There are several ways you can provide opportunities for your child to engage in movement.  For instance, you can keep a mini-trampoline in your child's room. If space is at a premium, it can be stored in a closet when not in use.  Another idea is to suspend a swing from your ceiling.  This can give them an opportunity to add movement, or give them a chance to find solace in their own space.
Look at lighting.  Lighting is an important factor when designing a bedroom for an autistic child.  Steer clear of fluorescent lights, since they produce fractional output as well as low-level sound, both of which can be disruptive to your child.  Instead, look to incandescent lighting. Also keep the bedroom free of electronic devices that emit blue lights such as video games, televisions and tablets.
You should also rely on as much natural light as possible, and install blackout window coverings for better sleeping conditions. Options like these Duette® Honeycomb shades come in colors that work well such as.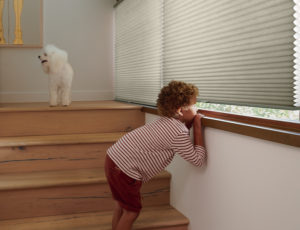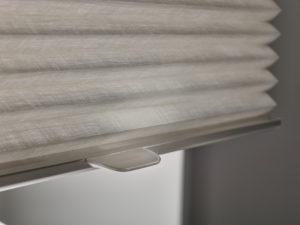 To ensure your little ones are safe, go cord free with the LiteRise® cordless shades or PowerView® remote control shades. The latter option even allows you to schedule the blackout shades to open at a certain time of day, allowing the natural light into the room to help naturally wake your child.
Aromatherapy.  Scent is an important aspect of sensory input and should be considered when designing a bedroom for a child on the autism spectrum.  Some experts suggest selecting lavender, peppermint or cedarwood essential oils to soothe your child. You can either use an oil diffuser in your child's bedroom, or opt to add several drops to an air filter for your HVAC system. Just be sure to change the filter once a month, preferably with a high-quality replacement to ensure maximum effect and improved air quality.
Better bedroom, better life.  Designing a bedroom with your youngster in mind can be challenging.  Children on the autism spectrum need consideration of their senses in order to sleep well, be happy and healthy.  Choose decor strategies with sensory input in mind, and you can create the perfect bedroom — and living space — for your child.
Author / Contributor: Specialhomeeducator.com