Avoiding the Fishbowl: Move Into Your New Home With Your Windows Covered
Start early and do your research.
You will need window treatments, and you will want to purchase them once.  While we invite you to shop where you want when you want, at home or in our Oak Brook shopping area Gallery, many new home owners, like the couple in this new Burr Ridge home, do both.  A stop into a Hunter Douglas Gallery shows products in their full size and with the details that might matter to you.  How does it lift or open?  How much will it cover my window when open?  Does it come with remote control?  These are a few of the questions we answered early on.  Since they wanted remote-controlled shades, we suggested that they low-voltage wire the windows during construction.  It's an easy addition and means that the homeowners will never need to change batteries.  Even if you schedule a shop-at-home appointment, it's never a bad idea to add a trip to our gallery.
If your home is a new build, like this one, we can talk to your builder about coming in before you move in.  If your new home is empty or being remodeled, we can talk to your realtor about coming in before you move.  But don't worry. If we don't get in until you do, we have temporary shades to cover your windows during the short time it takes for your coverings to be made.
This is all about you. Accept no compromises.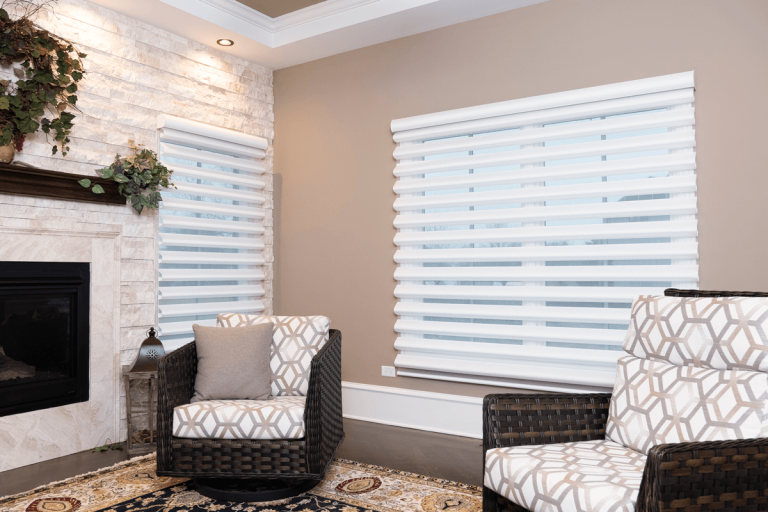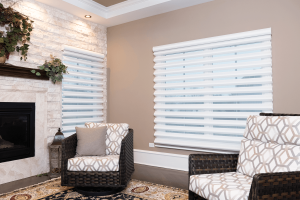 We've been in this business long enough to know that there is a solution to every window-covering need.  Seeing what is out there and working with an expert will show that there really is a window covering that works for you.  We take the time to work with you in our showroom and or in your home to discover what your best options are and to show them all to you.  Two of our Design Consultants worked with this couple, doing the research needed, ordering samples, and even both going to the home for the consultation.  This way, nothing was lost in translation, and both the client and the Beyond Shades team remained on the same page.
Multiple trips are worth it.
Still not sure after one trip? Then multiple trips to the gallery can be worth it.  In a 4,000-square-foot home, we needed to get everything right, so we had a few in-store meetings.  The couple, who were not first-time homeowners, were educated shoppers and wanted to be sure about their final selection.  They had bought an entire home of various window coverings before and seen a lot that they liked.
Ready, set, measure, order.
When we had narrowed down all of the selections, Beyond Shades Designers Rose and Rachel both went to the couple's new home before closing.  We all went room by room and product by product to go over colors, fabrics, and options.  This was an important trip because we brought the Pirouette hand samples and shutter panels.  Seeing large samples in the home can make or break a decision.  Being in the spacious home with its open floor plan gave the designers a chance to give very informed advice about what would work well for controlling light and privacy. The order was placed and will arrive in time to install before the couple moves in.
Move in ready.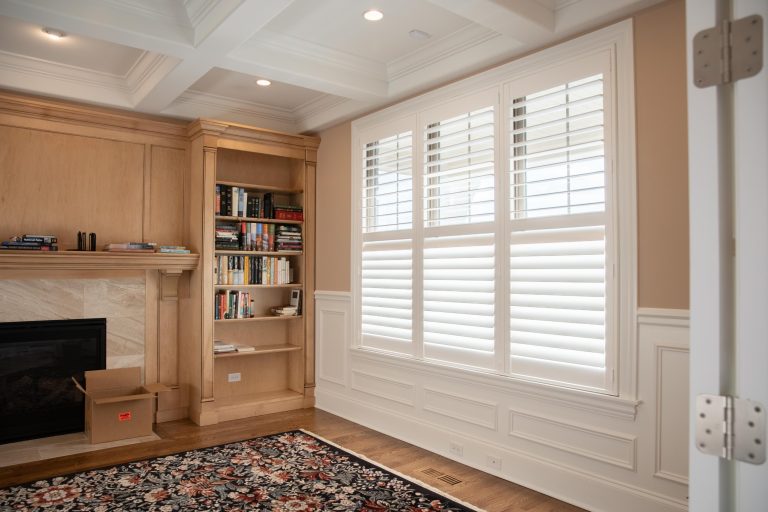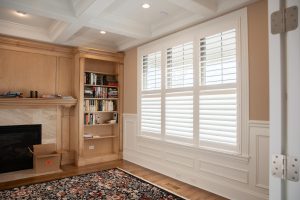 We advise you to order what you want as soon as you are sure about your selection.  We ship the product directly to us and have our Hunter Douglas Certified Installers contact you to schedule an installation date that works for you.
Not ready to do the whole home?  If not sure about what you want or need, wait.
We take working with you in your space at your pace very seriously.  We want you to have a satisfying experience with window coverings that you love. You'll re-paint and buy new sheets, towels, furniture, and possibly even appliances before you change your window covering again, so we want you to make the right choice the first time.  If that means you have to experience the home before you purchase, we encourage that.  Window coverings are something that you want to do once and to do right.
The right choice promise.
We promise that you'll be satisfied with your choices.  If you are not for any reason, as a Hunter Douglas Gallery, we will make a one-time replacement of any window covering that you are not happy with.  Ask any of our team members for details.