Choosing the right Modern Window treatment for your home depends on your personal style, incoming light from room to room, and the features you're looking for. No matter your choice, modern conveniences can be found throughout; featuring PowerView®, LiteRise®, UltraGlide®, SoftTouch™, Standard Cord Lock, and EasyRise™.
Choices all feature even more customizations throughout, so no matter the modern treatments, you can't go wrong! Choose between; the Alustra® Woven Textures® Collection, Pirouette® Window Shadings, Vignette® Modern Roman Shades, Designer Screen Shades, and Designer Banded Shades, all suitable for those looking to go for a refresh in style, fabric, conveniences, and innovation in light diffusion. So bring in the new year with a new look and see what treatments fit your lifestyle today!
Alustra® Woven Textures® Collection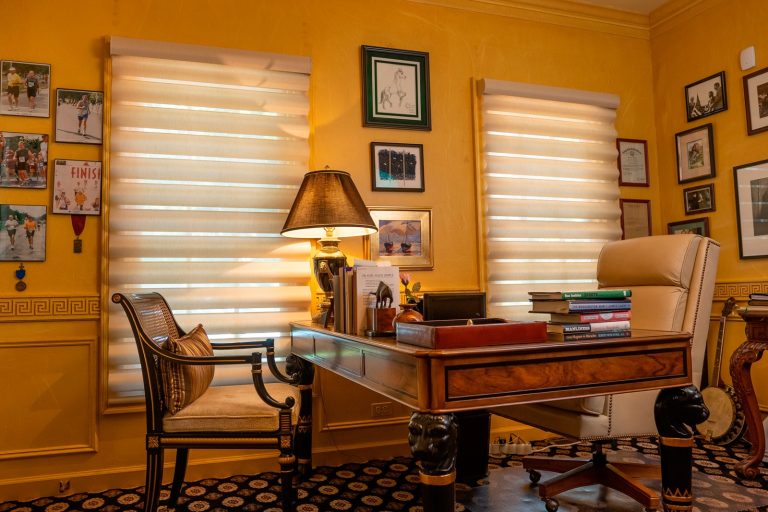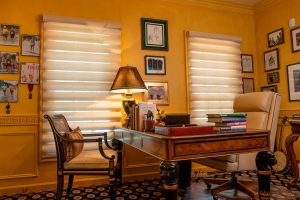 Alustra® Woven Textures® Collection, featuring fabrics sourced from around the world! If you're looking for something with a little more texture and light diffusion; Alustra Collection includes Alustra Woven Textures Roller Shades, Alustra Woven Textures Roman Shades for a two-shades-in-one feature, Alustra Skyline Gliding Window Panels that are twisted on traditional panel track blinds. Choose Alustra treatment for rich materials and textures curated from around the world. The modern-day window treatments don't have to just blend in and be forgotten but Alustra® shades can help enhance the design by both adding new material to pop and double use as a filtration for light to set whatever mood or ambiance you're looking for.
PIROUETTE® Window Shadings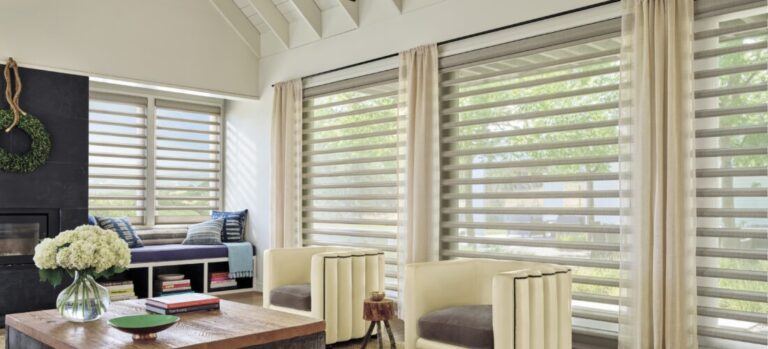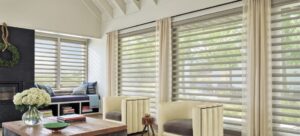 A bold and modern alternative Pirouette® Window Shadings provide the look and feel of traditional fabric shades. These unique shades feature softly contoured fabric vanes that magically open and close to giving you complete control over your desired degree of light filtration and privacy. Great for rooms with a lot of light and in need of an accent piece that can help blend indoors and outdoors.
Modern Shade with new modern innovation, featuring an invisi-Lift™ system allows the vanes to float gracefully on a single sheer backing. If you get a lot of light but don't want to be in the dark, these shades block up to 81% of harmful UV rays open, and 99% with vanes closed. And for some soft lighting, the Pirouette® available with both semi-opaque and room-darkening fabric opacities, two vane sizes, and a wide variety of colors to perfectly complement your room's color palette.
VIGNETTE® Modern Roman Shades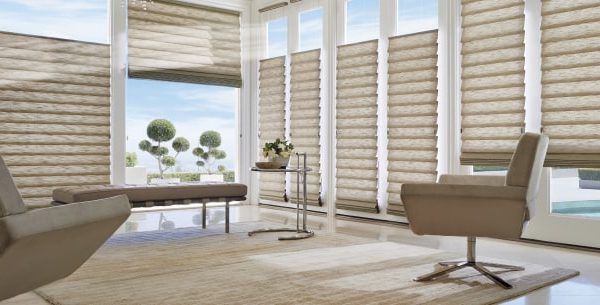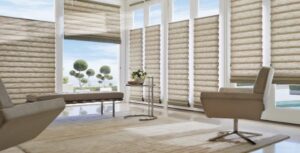 Luxurious fabrics with soft folds, Vignette® Modern Roman Shades are for those looking for a clean, crisp look. Perfect for those with young kids or animals thanks to no exposed rear cords, which also brings an improved window aesthetics. Fully customizable for each room; want something a little more noticeable and functional, choose a sheer fabric with various fabric opacities for light-filtering and room-darkening. These luxurious shades come in a wide range of styles and fold sizes, combining the familiarity of the original roman shade with the new modern twist and conveniences.
For two opacities in a single shade, consider the revolutionary Duolite® option. Vignette Duolite combines a light-filtering or sheer front shade with a built-in room-darkening back panel both housed on a single roller to easily achieve the perfect level of light and privacy.
DESIGNER ROLLER SHADES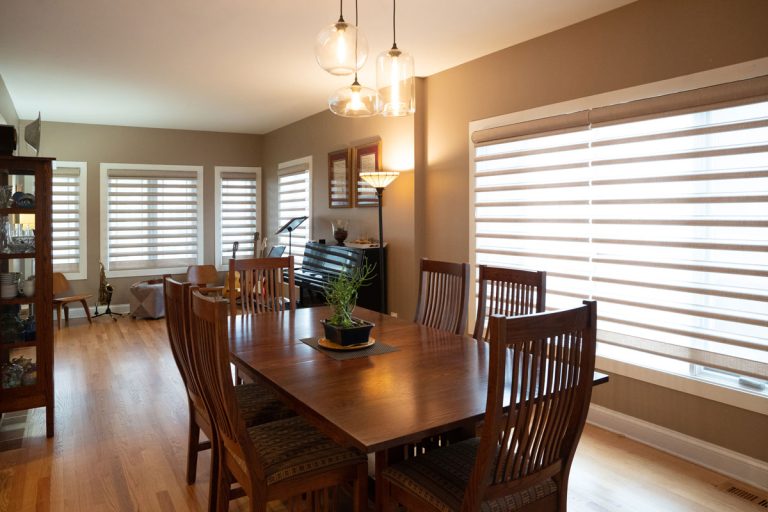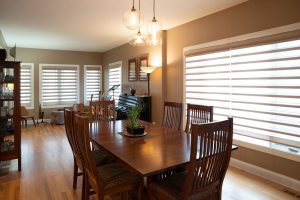 Our Designer Roller Shades are loved for their clean appearance, versatility, and premium style. Perfect for a minimalist space or traditional, designer roller shades are fully customizable and have the option to blend in or even stand out. Choose from over 330 fabrics from sheer to opaque to find the perfect look for your space and even an array of top and bottom treatments, including fabric valances. Featuring a Custom Clutch operating system, including modern hardware together with precision-tuned lift technology that delivers exceptionally smooth operation, ease of lifting, and the smallest light gap in the industry.
DESIGNER BANDED SHADES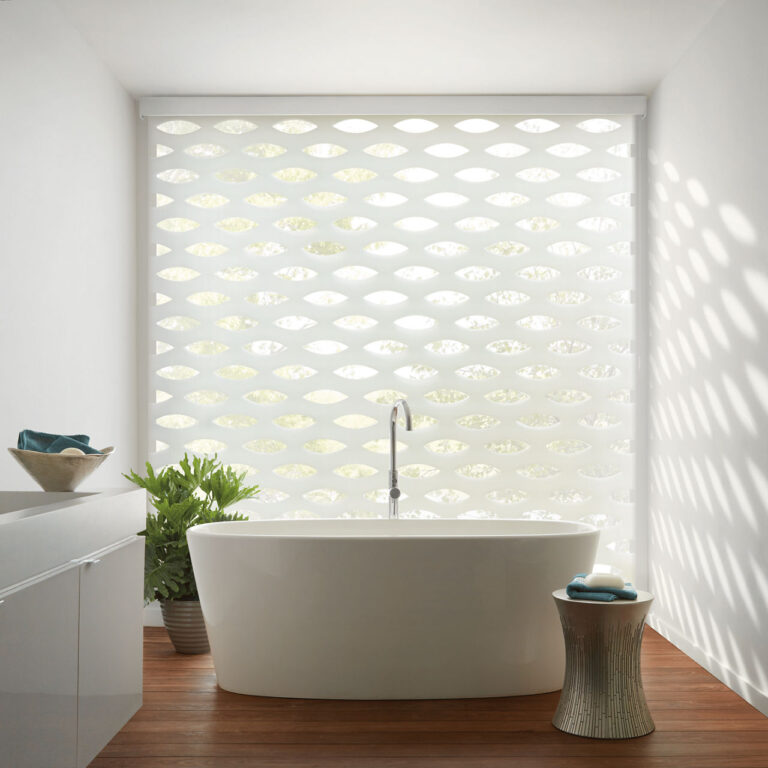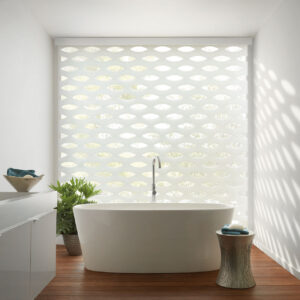 For those looking for something different, the designer shades are here for you! Designer Banded Shades combine alternating sheer and solid bands in a single shade and Shift the solid bands to overlap, to ensure privacy. These uniquely designed shades allow for full privacy while bringing unprecedented control over the light diffusion offered.
How? Align the solid bands, and you get natural, diffused light. With each adjustment, you create your precise level of sun and privacy. And, of course, the shades completely raise or lower via your choice of the innovative operating system. So for those looking to turn their windows into works of art with a variety of design options, bold fabric colors, three different band heights, and even two different geometric styles.
No matter the choice, know you're getting a treatment designed and custom-crafted in the U.S. with the highest level of quality! Contact us for any design and styling questions or anything we can help answer to get you ready to choose your next window treatment update! And don't forget to look through our photo gallery for inspiration!